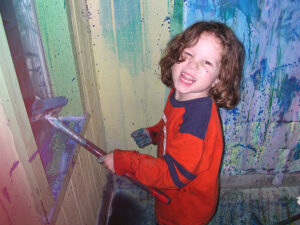 Kids play and make art together with their favorite adult who joins the fun. You provide supervision for your child and we provide open-ended art activities for you and your child to explore together. Three class formats are offered as follows:
Toddler Play (Age 18 mos & up)
Fridays, 10:30am – 12:30pm
Perfect for your toddler or preschooler, our Friday morning class will have lots of young friends to play with. Join the fun! Bring extra clothes. Snacks are welcome at the snack table.
Baby Group (infants to walking)
Wednesday 9:30am – 10:30am
8 classes for $112
This exciting new Wednesday morning class is facilitated by Gisela Monterrosa, a trained doula and infant growth expert, will offer fun songs and activities for new parents and their infants. Meet your new tribe! Baby group please come consecutive weeks. Missed classes can use Open Studio or Toddler Play.
Open Studio (All ages)
Monday, Wednesday, Thursday, Friday, 90 minutes, 1:30pm – 5pm
Be with your kids in our studio with a mix of ages. Art Zone provides tons of open-ended art activities that change each week. Great for play-dates afterschool or simply to hang out with your toddler. Home school families love this art-filled time together.  Call us about arranging private afternoon groups on Tuesday (only by appointment).
A variety of activities offered every day including:
Easel Painting  *  Water Play  *  Dress up  *  Play House and Tea Party  *  Clay-Play  *
Stamping and Printing *  Glue and Fabric Collage  *  Paper Making  * Marble Painting
Hand Made Cards   *  Rainbow Handprints  *  String Painting  *  Bubble Painting
Everyday is a new play adventure.
–
– – – – –  – OPEN STUDIO PRICE DETAILS – – – – – – –
Cost: $18 for single class or
Six Anytime Classes* for $85  (excludes Baby Group)
*Anytime classes are used as a punch card
*Anytime classes must be used within 90 days of purchase
(310) 889 -8598 call or text if you have any questions
We can't wait to play with you!!