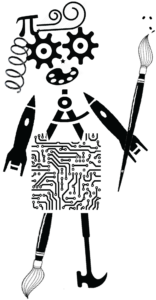 ART CLASS – HERMOSA BEACH
Join us for Art class! 
We give the kids snack and some down time to play and goof around for about 30 minutes before we start our art program. Most kids really need this time to decompress. Some kids are ready to paint and draw right when they get in the door. Most kids have just spent the whole day listening to adults and are hungry to share their views and to be "listened to". We observe and listen to their play and their conversations to detect their curiosity and excitement. As we get to know the kids, we plan activities that will be exciting and driven by their innate curiosity.  We also offer homework support if needed. Please ask us.  To register for classes, it is best to call our studio. (310) 318-6011.
Morning Class-Before School
Tuesday 9:00 to 11:30 
Thursday 9:00 to 11:30
Homeschool & After School Classes
Monday 1:30 to 6:00
Tuesday 12:00 to 6:00
Wednesday 1:30 to 6:00
Thursday 12:00 to 6:00
Check out the Parent's Night Out page for a Friday evening class filled with art, pizza, and so much fun! Every Friday from 5:30pm to 8:30pm!                
Choose your tuition from the following hourly rates:
90 mins: $35
Up to two hours: $42
Up to three hours: $57
Up to four hours: $72
Siblings 10% discount.  Discount for second and third day registrations. Discount when you register with an auto-pay contract.   
Policies:  Tuition is non-refundable. To guarantee your space each week, please sign an auto-payment contract. Registration for single classes based on availability. Classes can be rescheduled with 48 hours notice. Missed classes may not be credited towards future tuition. Please call us by 8:00 am if your child is sick. Sick child and "no shows" are eligible for a Parent's Nigh Out Session. Please request the session within 30 days of missed class. Parent's Nigh Out Session may be gifted to a friend, as a birthday gift, or gifted to your favorite school auction fundraiser.
REGISTER BY PHONE (310) 318-6011
GALLERY